Quickstart via Device
STEP 1
After confirming your misting system settings, add concentrate into the 02 concentrate tank, and ensure it is filled above the low water level line.
STEP 2
Press the MENU button to turn on the device. The screen will display "Pair Device" to enter pairing mode. Select "Cancel" to leave "Pair Device", and proceed to the time setting interface.
STEP 3
After time setting is complete, it will jump to the "Choose Concentrates" page.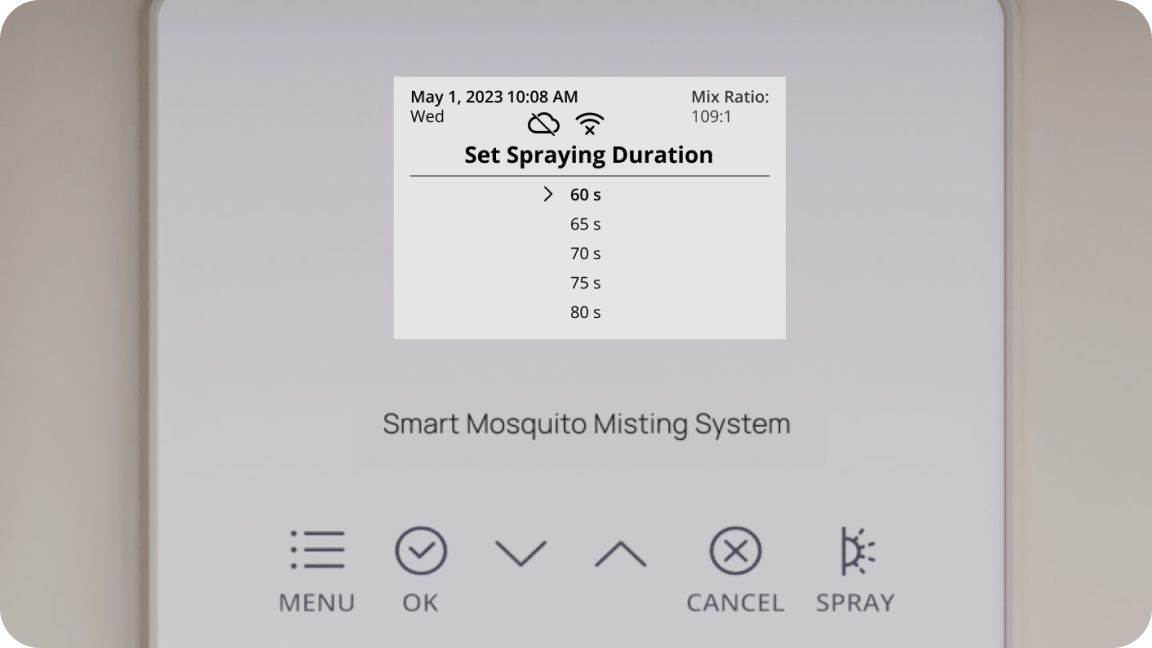 STEP 4
Proceed to the next step to customize your preferred spraying duration.
STEP 5
After completing the startup settings, the device is ready to be used. It is recommended to activate self-test when using for the first time to test the functions of the device and confirm it can extract concentrates normally, and there are no abnormalities or leakage in the inlet and spray. Just squeeze the trigger to start spraying, and squeeze again to stop. Allow nozzles to spray for about 1 minute to test.

During this process, if impurities or foreign objects are found in the water pipe, it is recommended to remove the metal plug from the last union tee positioned at the end of the pipe, so as to clean them out with ease.
STEP 6
After the test is completed and there are no abnormalities, install the glass panel on the device and start living mosquito-free!